Professional Telephone Answering Services in Idaho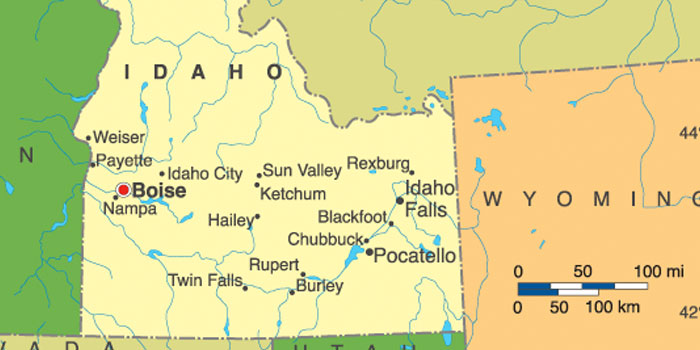 Idaho can be found in the north-west region of the United States. If you live in the area, you're probably used to being called an "Idahoan".
The state seems to be much loved by its residents and has been given the nickname of "Gem State" as almost every precious gemstone imaginable has been found in the Idaho area. An interesting fact is that other than in India, the Star Garnet is only found in Idaho. Another nickname for the state is "Potato State" and as you may already know, this is because of the state's abundance of potato crops. In fact, Idaho produces one third of the USA's potato crops. It's easy to realize that Idaho owes its economic wealth to the agricultural industry. Another interesting fact is that the world's largest cheese processing factory is also found in Idaho! Are you running a business in this state? If you would like to take advantage of the marketplace, ensuring that your small business or start-up business has telephone answering services in place can make all the difference.
How can telephone answering services make a difference to your business? Small businesses and start-up business can be challenging at first. At the first sign of growth, you are going to feel the stress of increased orders, more incoming calls, and more administration work. It's important to keep on top of everything but that can be hard without a team of dedicated staff members which can often be too expensive. By outsourcing your incoming calls to a professional telephone answering service, you can create a corporate image for your business and ensure that your customers are attended to promptly and efficiently.
The task of our telephone answering agents is to learn as much as they can about your business, so that when they handle incoming calls, they know precisely what they are talking about.
Services Offered by Sunshine Communication Services, Inc, in Idaho:
Industries Served by Sunshine Communication Services, Inc., in Idaho
At Sunshine Communication Services, Inc., we provide professional business telephone answering services to many businesses operating in a variety of industries in Idaho. We currently provide our services to various
attorneys, emergency restoration, funeral services, home health care, hospice, hospitals, property management, plumbers, medical offices, real estate and doctors.
Choose Sunshine Communication Services, Inc. for Your Business Answering Services in Idaho
If you are wondering what the associated benefits of our telephone answering services are, here's a few:
All Sunshine Communication Services, Inc.'s agents are HIPAA qualified

You will be provided with a business number to use

We can provide customer services in both English and Spanish

All correspondence and messages will be sent to you via email, telephone, fax or text

We will customize a solution to your needs and budget

We will provide you with monthly reports including the call detail

We offer a

Personalized IVR voice mail service

Need more information and advice on our telephone answering services in Idaho, waste no more time. Contact us at Sunshine Communication Services, Inc. today.